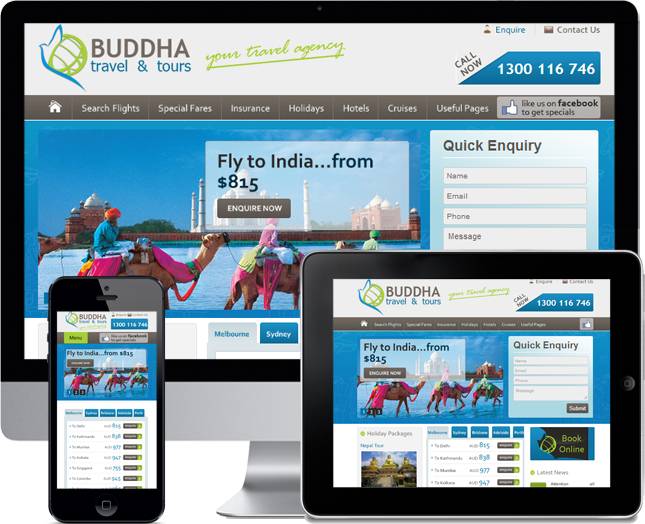 Buddha Travel and Tours – a leading travel agency in Australia offers a great range of flights deals for holidays, family visits, travels etc. Their experienced and professional staff offers truly personalised travel services to satisfy customers' needs. Expert in offering cheap flights to Kathmandu and many other travel destinations across the world, Buddha Travel has established a unique, trusted and preferred brand image in travel industry in Australia.
InMobility has helped Buddha Travel get their digital identity redesigned with multiple devices compatibility. We rebuilt a responsive and attractive travel portal for Buddha Travel and Tours. The responsive design lets the mobile, tablet users to make use of the website features in efficient and simple way. Now they can book online, enquire online for the desired airfares; they can get information about tour packages, insurance etc from any device they use.
The responsiveness of the website has made the whole process of booking, enquiring, etc. faster, better and convenient for users from all devices.
Solution Provided by InMobility:
Responsive Web Design
Digital branding strategy
Usability engineering
Travel Portal
Customising web/module design
Administration system design & development
Reporting
Search Engine Optimization
Social Media Marketing